Facilities
We manage two facilities for the Columbia Association: Amherst House, our banquet hall, and the Meeting Room, our neighborhood center.
Amherst House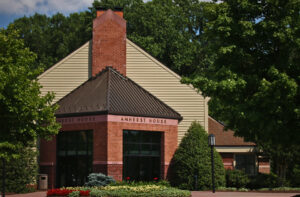 With its clerestory reception area and cathedral ceilings throughout, Amherst House is a contemporary building that offers a warm setting for any function. Whether it is a wedding, Bar/Bat Mitzvah, social business function or a business meeting, your needs will be met by using one room or several in combination.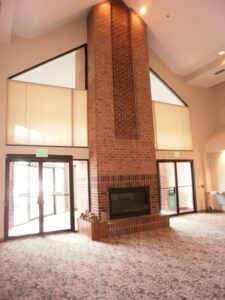 The 4300 square-foot building contains a large, gracious reception area with a soaring brick fireplace and comfortable furnishings. The carpeted Macgill Room is furnished with a 10-foot conference table and 8 high-backed conference chairs. It is perfect for meetings or conferences and may be used in combination with the larger Huntington Room when the pocket doors are open, offering you more space. The focal point of the Huntington Room is the high brick and glass wall which provides a lovely outdoor view. The floor is perfect for dancing and parties. Glass doors lead to a spacious and beautifully landscaped patio that is bordered by trellises and lighted at night. Adjacent to the Macgill and Huntington rooms is a compact, fully equipped kitchen.  Maximum building capacity is 100 people.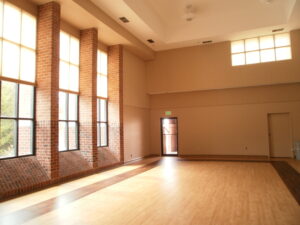 Amherst House is located in the Kings Contrivance Village Center at the intersection of Guilford Road and Eden Brook Drive.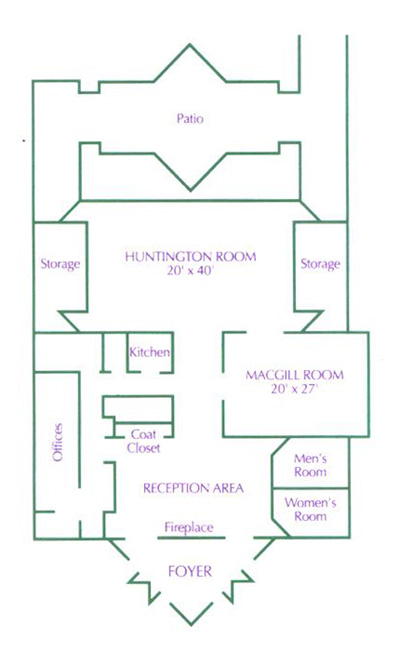 The Meeting Room
The Meeting Room is the neighborhood center at the Macgill's Common pool.  This space is suitable for small meetings or classes.  Contact the Village office for details: (410) 381-9600.